Use Christian Flatshare in your church
if you would like to use CFS in your church or organisation then here are some things to help you...
Sharing Christian Flatshare (CFS) with your church can help those moving to your area to connect with your church. We hope that all Christian Flatshare members will share CFS.
You can download posters to share CFS with your church - and of course, however praiseworthy it may be, do ask permission from your vicar, pastor or priest, before starting your promotional campaign in church.
CFS Posters
Linking websites to CFS
A link from your website will help others to find CFS. If you would like to link your website to CFS then below are some graphics that you might like to use. CFS links to and includes on its accommodation maps the Churches, Christian Organisations and Student CUs in the CFS church directory.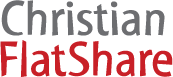 CFS Church Directory

Church leaders, use the form below to add your church to CFS' church directory and onto the accommodation maps, with links to your website.

481 churches and organisations have supported CFS.